Table of Contents
Using Gitlab and Satis to generate private composer Repository
This is mainly a wrapper for mborne/satis-gitlab intended to make it easy to use with minimal and simple configuration. Best used together with Gitlab. I'm using Gitlab Pages behind Apache, NGINX is the default/recommended way to use Gitlab Pages with.
Idea
Integrate webhook ??? when tag created

See section

optional

Download zips in Satis ??? So no key auth is required??!?!? add archive: true and *.tar-Files for Tags will be saved in ./dist/ Folder. Branches still point to Git Repo.

Multiple packages, which one is preferred? Depends on the loading order of your defined repositories in composer.json

Run pipeline only if it is not already running, pile up all requests and run it only once.
Features
Write .htaccess according to config.yml (only if basic-auth is set)

build-dir to configure target folder

Order to read configuration: GITLAB_SATIS_CONFIG → config.yml

options is passed to satis-gitlab as –option

arguments is passed to satis-gitlab as argument

Use –ignore to exclude certain repos
Gitlab CI
The image ochorocho/gitlab-pages-satis provides gitlab-pages-satis command which reads the environment variable GITLAB_SATIS_CONFIG first. Fallback is ./config.yml or the configured file e.g. gitlab-pages-satis /path/to/config.yml
Configuration
Go to Project → Settings → CI/CD → Pipeline Triggers, give it a name and allow api scope. Hit "Add Trigger" and copy it to your configuration (arguments → gitlab-token). See below …
Using Environment variable
In Gitlab go to Project → Settings → CI / CD → Variables and create variable named $GITLAB_SATIS_CONFIG and add your config to the "input variable value" field.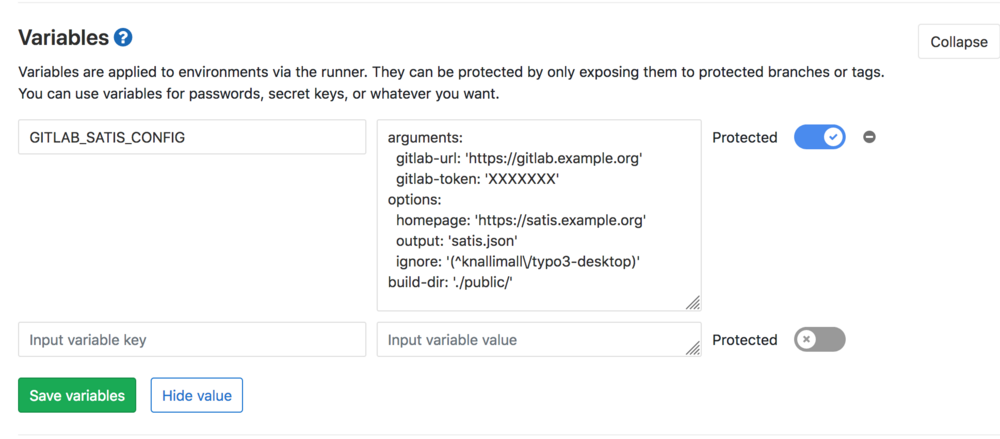 Using Config File
Add a config file to your repository. By default the script is looking for config.yml file. If you want to change that simply call the script this way gitlab-pages-satis /path/to/custom_config.yml
Make sure Gitlab Pages is activated for your project.
Trigger the Pipeline, that's it!
Optional
Satis example template
Use this template and set configuration (options → template) if you want to modify …
Trigger on tag_push
Want to trigger your satis projects pipeline each time a Tag is created/deleted ?
Add the follwing file to /opt/gitlab/embedded/service/gitlab-rails/plugins/gitlab_pages_satis.rb

Make it executable (chmod +x gitlab_pages_satis.rb)

validate your plugins using sudo gitlab-rake plugins:validate to make sure its running